HOW THIS CAR THING GOT STARTED.
Started way back in 1953 when I turned sixteen, and got a '49 Ford ragtop in high school. Spent a bunch of years building a hot flat head V-8 with triple 2 barrel carbs, cam and trick ignition. Got rid of all the chrome, Frenched all the lights, dropped it down in the back, added skirts and all that. No door handles, you just pushed a small button in the rocker panel with your toe to pop it open. Painted it, of course, a metallic red. Called the car The Titian in respect to the early on artist who painted gal's hair about the same color. Still a true classic. Ford brought out a showcar in 2001 called the Forty-Niner. Brought back all sorts of memories. Probably never go into production, but sure wish it would.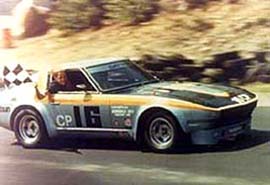 Then back in the early 1970s, bought a 1972 Datsun 240 Z, tricked it up a bit and after about a year took it out for some time trials at Lime Rock and Bryar racetracks. That was enough fun to get me to tear it apart that winter and make a race car out of it. Ran it fairly successfully in SCCA (Sports Car Club of America) C Production from 1974 'till 1980. Won it's class in the North Atlantic Road Racing Series most every year. But things like no prize money, a family and a mortgage eased me out of that. That got me in the habit of putting MINUTEMAN RACING stickers on my street cars. All the cars carry them now.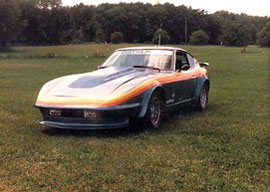 Along the way in the race car days, took another 1972 Datsun Z car, put on old race car suspension, added all the fiberglass parts that I made molds for the race car, Got a G-nose out of Japan (way the Datsun, called a Fairlady over there, was first made). Plopped in a 1968 Corvette LT1, 350/350 V-8 with an Isky cam in 202 Fuelie heads. Bored it out and was getting some 420 BHP. Tied that all to a Muncie M24 four speed, then to a Datsun Comp 4.44 rear end. That kind of HP in a 2100 pound car resulted in the fastest thing around at the time. Bar none! Had enough torque to want to turn the car over sideways. Guy thing.


The Fun years of SCCA Club Racing