HOUSE OF THE RISING SUN
Ah, the Japanese Invasion. We beat them in W.W.II, but they came right back and beat us in electronics, cars and many other things. But in all these fields they built reliability and technology. The Datsun Fairlady may be a direct copy of the MGB, but it was a better car. The Zs and RX7s were light weight rocket ships with great styling. Although they really hurt the US auto makers, they made street and race drivers very happy.
---
---
My other, along with Lotus, and probably my first, favorite marque is the Datsun. Always made by Nissan Motors, but back in their heyday, and in the days and years I raced them, they were just Datsuns.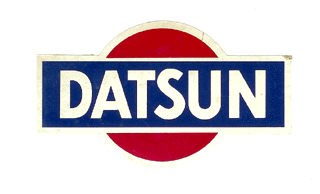 Once they were started to be called Nissans, they had lost any resemblance to a sports car. During the mid and late '70s, I raced a 1972 240Z in SCCA C Production and a 1971 510 Coupe in B Sedan. Mostly in the Z-Car. In fact the 240Z is still active as of 2003. It's owned by a guy in Houston, and he finished in the top 10 of class at the 2002 National Championships at Mid Ohio. These were simply race cars right off the dealer's floor. In production classes you had to stick quite a bit to factory items. At the time Datsun Competition had a 60 page catalog of 'factory parts' and Datsuns dominated their classes for years.

1964 DATSUN 1500

This was the second Fairlady. Never saw one in the flesh till I got this one. The first Fairlady was the 1200, but I don't think they ever were imported here. The 1600 came here in late 1962.

This one is apart and hope to get to the body shop soon. The 'real' photo will be up soon, but looks just about like the 1600 roadster.
1967 DATSUN 1600

This was the second Fairlady, with the lower early version windscreen. A great roadster. 1.6 liter engine, with twin SU carbs. Five speed tranny and a great car for street or track. Got this fella in Arizona with no rust and was an easy restoration project. These were tops in G-Production, and pretty much still are. Thanks to 'General Joe!'
1968 DATSUN 2000

This was the last Fairlady, a great roadster. Big 2 liter engine, with twin SU carbs. Five speed tranny and a great car for street or track. Got this one in California as all the ones on the east coast rusted away years ago. 135 hp and a top speed of almost 120 mph. In race trim, they dominated D Production.
1971 DATSUN 510

This is the other car that I raced in B-Sedan in the 1970s. Guy out in Seattle made this one look like my old car. He ran it in some SCCA rallies. 2.0 liter engine, dual Mikuni .44 sidedrafts, comp suspension, 4.44 rear end, 15 inch wheels and other goodies. Then he put in Lexus seats and race harnesses. Fiberglass flared fenders, and of course, I had to add the rear wing.
1972 DATSUN 240Z COUPE

Same year as my old race car was. In-line six with 147 horsepower and a top speed of 125-130. The '72 race car had 310 ponies and a top speed of 165 plus. Even more fun to drive, especially at Lime Rock or Watkins Glen. Gonna rebuild the engine kinda to the race car specs. 280 block, 240 head, triple Solexes and a slalom cam.
1993 NISSAN 300 ZX ROADSTER

Only made for two years. 3 liter V6, 222 horsepower. Top speed of about 155 mph. Pretty much stock except for fore and aft wind deflectors. Handles well, but not much in the way of exciting power. Just too big and heavy and comfortable to really be a sports car. No wonder they stopped making them. Also priced out of the market. (Sold this in 2004).
1972 DATSUN 240-Z RACE CAR

The old race car, don't have it any more but thought you might like a look. Bought it new in 1972, and sold it in 1980, but this is where the love affair began with this breed of cars. Mostly fiberglass, 280 block .40 over, early 240 head with triple Mikuni Solex carbs and every trick part known then. Car weighed 2100 pounds and turned out 310 bhp. Handled like a dream! Won a LOT.
---
---
ROTARY ROCKETS & MORE
The Wankel engine was designed and built in 1957, and used in the German NSUs, and then taken on by General Motors for use in the newer Corvettes which never materialized. But it really took off when Mazda, then Toyo Kogyo Motors, got their model going in 1967. RX7s were simply one great and fast sports cars. The old RX3 was a neat little sedan as well. Honda began making some pretty nice sports cars in the 90s with the Acura NSX and finally the S2000 roadster. Of the 4 main cars in the movie The Fast and the Furious Two, one was the 3rd generation RX7 turbo, and another the S2000.

1987 MAZDA RX7 TURBO II

Second year of the series two body style and the first year of the turbo. Stock was 160 horsepower. Played a lot with this engine and turbo system, and now get 255 horses out of the car with adjustable boost. Top speed about 175 mph. Thank you very much Corky Bell and the guys at Car Tech in Dallas. (Sold in 2005)
1988 MAZDA RX7 ROADSTER

Regular normally aspirated twin rotor engine. Nowhere near the power of the RX7 Turbo, but handling is almost identical. Interesting convertible top with two panels. Can take off the front top and get a Targa effect, or just retract the whole thing and get a really nice looking roadster. (Sold in 2004)
1993 MAZDA RX7-R1 TURBO

Third generation RX7. Made from 93-95, and the R1 Touring edition only in 1993. Stock had 255 hp, but this one has dual Peter Farrell intercoolers, M2 air induction and computer and much more and gets over 350 hp. Last guy also added wheels, racing brakes, exhaust, new paint, leather interior. The entire suspension and sway bars are all fully adjustable. Out and out race car. This fella is a real one of a kind and a real kick to drive.
2000 HONDA S-2000

First year that this neat little thing was made. Limited production. 2 liter in-line 4 with dohc shafts. This engine turns out 120 hp/liter, more than any other non turbo car ever made. All aluminum engine with the Honda VTEC valve train. Double wishbone suspension, front and rear stabilizer bars make handling perfect.